---
Statistics 1040
Dr. Tom McGahagan

Decaying Dice by Rosamund Purcell
Dice contributed by Ricky Jay to the
Museum of Jurassic Technology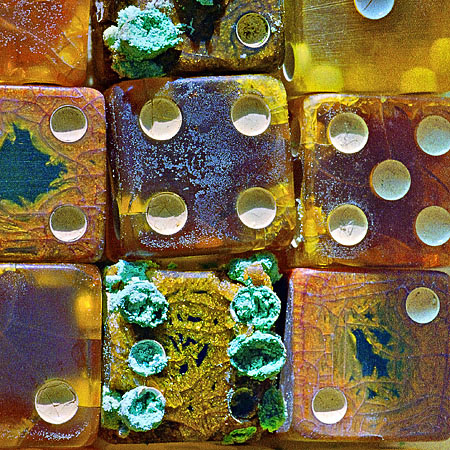 ---
Installation instructions for R (Spring 2015)
Try R
An excellent introduction to the R statistical language for complete novices. You can use the web to try out the R program even before you install it.
I have further exercises, and more comments on some programs, in my brief Introductory R Tutorial and my more detailed R Tutorial
The contents of the lessons in Try R and my introductory tutorials will be the subject material for the FIRST QUIZ of the class, so be sure to go through the lessons carefully.

Instructions for downloading the program are available and the next link.
The R statistical language
You can download the program and some supplementary files at the link above.

Data files for R
All files we will commonly use can be downloaded from within R by the command >>> download.data()
Data sets that we will use include data on the Forbes 400, gas mileage for 2012 model cars, US macroeconomic data (FRED or Federal Reserve Economic Data), and world economic data (PWT or the Penn World Tables).
Michael Wichura has a set of handouts for a course based on Freedman, Pisani and Purves. They are an excellent way to review for an exam.
Stats4Stem Speaking of reviewing for exams, this site has excellent questions as well as online version of the R program.
Carnegie-Mellon Online Statistics Course. Excellent presentation of the basics, with plenty of questions to check yourself.
Philip Stark has an online statistics text which parallels Freedman, Pisani and Purves.
The Importance of Statistics
Inspirational Music:
Notes on items of interest: recommended supplementary reading, news items, and odds and ends.
Homework from a previous text, but problems are mostly self-contained (and mostly relevant to the final two units).
---
Useful Statistics Websites
---
---

From CauseWeb
Cartoon by J.B. Landers. Used with permission.
Gallery of Statistics Jokes by Gary C. Ramseyer.
---